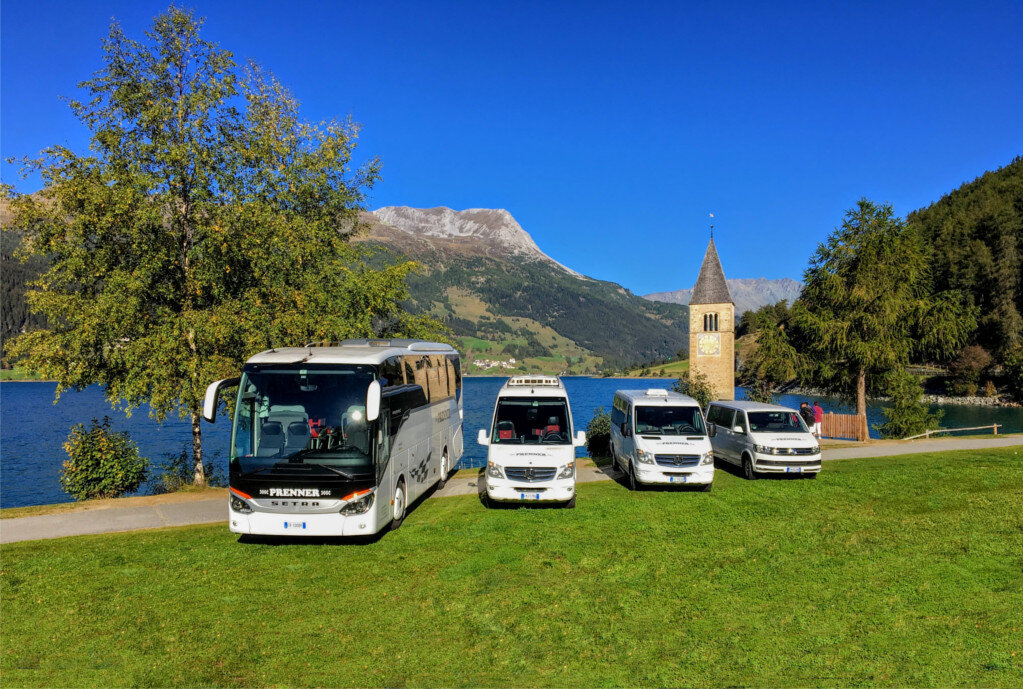 Bus Prenner – Your bus company operator from South Tyrol
Transfers
Travel with us and enjoy a pleasant and relaxing journey to your Vinschgau holiday destination. We can pick you up in a taxi or minibus direct from your rail station or airport, and guarantee to carry you to your destination quickly, safely and in good time! Many of our customers require transport to the popular holiday resorts in the Vinschgau, such as the Reschen Pass, Mals or Solda. Though, of course, we are also happy to offer airport transfer to all other popular locations!
Enquire now!
Get our best price now by asking us for a no-obligation quote!
A warm welcome to Bus Prenner! We are an experienced bus company operating from the Reschen Pass district of the Vinschgau / South Tyrol with a versatile fleet of shuttle minibuses and coaches with up to 35 seats. Our range of services cover both local and international transport requirements.
Our company – Bus Prenner – has been in existence since 1995, though much has changed in recent years. We have developed new services, expanded our fleet and recruited extra drivers. As a result, Bus Prenner now operates a skilled team with lots of experience. Our business currently operates 6 buses and is the most efficient shuttle and bus company in the Vinschgau.
Our goal
Right from the very start, our aim has been to create satisfied customers and this objective has certainly not changed over the years. We are at your disposal 365 days a year, and we aim to deliver you the very best with each and every one of our services. Thus, we attach particular importance to the following points:
Reliability: We will always bring you promptly and safely to your chosen destination by the quickest practical route!
Affordable prices: We can offer you the best quality at affordable rates and aim to operate a stable pricing policy.
Quality service: You will feel comfortable in our clean, modern buses, and our friendly drivers will make you feel welcome and at ease!

Mercedes Sprinter (20 seats)